Careers
Join a Winning Team at Piedmont Chrysler Dodge Jeep RAM
Welcome to our Employment Opportunities page! If you're looking for an opportunity to be appreciated and involved in your career, your search is complete. We have a great history of providing excellent career opportunities for sharp, energetic people.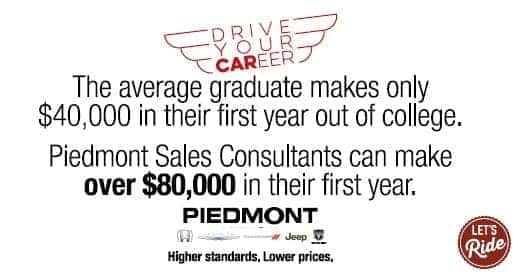 Make $80,000+ A Year!
Apply Online Or In Person Today!
Piedmont Chrysler Dodge Jeep RAM
Piedmont Automotive, the area's largest volume dealer, is seeking a select number of Business Development Associates
Piedmont is looking for motivated, intelligent, responsible individuals to participate in our entry-level Development Program. This program is meant to provide participants:
A complete understanding of how to succeed in Automotive sales and grow your referral base.
A detailed overview of sales and product knowledge.
A thorough understanding of on-the-ground customer assistance.
Development of the functional areas throughout our company.
An opportunity to identify your areas of interest and strength that match our organization.
Ideal candidates will be:
Extremely organized
Able to meet pressing deadlines
Eager to work independently and exercise sound judgment
Committed to applying high personal standards of integrity and character
IN RETURN:
A salary of $400.00 per week while you are in training for 90 days.
Qualified individuals can earn well over $75,000 per year.
We offer a full benefit program including 401K, medical and dental.
Please apply online or in person at Piedmont Chrysler Dodge Jeep RAM
4015 Clemson Blvd Anderson, SC.
Service Technician
IMMEDIATE NEED!
No phone calls or email – MUST APPLY IN PERSON ONLY.
Please ask to speak with Jim Pierce – Service Manager in person.
We Offer
We offer a full benefit program including 401K, medical and dental
Responsibilities
Performs work specified on the repair order with efficiency and in accordance with dealership standards
Tests components and systems using diagnostic tools and special service equipment
Diagnoses, maintains, and repairs vehicle automotive systems including engine, transmission, electrical steering, suspension, brakes, air conditioning
Communicates directly with the Service Advisor so that customers can be informed if any additional service is needed. Provide an estimate of time needed for additional repairs
Executes repairs under warranty to manufacturer specifications
Qualifications
High School diploma
Must have at least 2 years of experience as an auto technician
Ability to read and comprehend written instructions and information
Knowledge in all aspects of automotive repair and maintenance
Learns quickly
Excellent oral and written communication skills
Excellent customer service skills
Team player
Must have a valid driver's license
Ensures that customer's cars are kept clean
Maintain stall in an orderly and clean manner
Ability to identify problems quickly
Knowledge of automobiles
Math, reading, and computer skills
Ability to learn new technology, repair and service procedures and specifications
Able to operate electronic diagnostic equipment