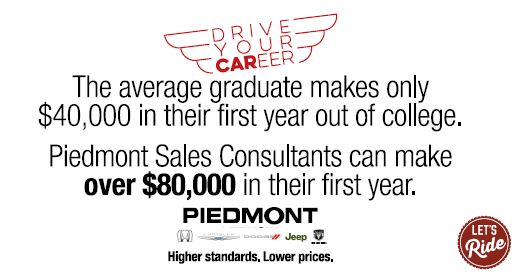 Make $80,000+ A Year!
Apply Online Or In Person Today!
Piedmont Chrysler Jeep Dodge Ram
Piedmont Automotive, the area's largest volume dealer, is seeking a select number of Business Development Associates
Piedmont is looking for motivated, intelligent, responsible individuals to participate in our entry-level Development Program. This program is meant to provide participants:

-A complete understanding of how to succeed in Automotive sales and grow your referral base.

-A detailed overview of sales and product knowledge. 
- A thorough understanding of on-the-ground customer assistance.
- Development of the functional areas throughout our company.
- An opportunity to identify your areas of interest and strength that match our organization.

Ideal candidates will be:

- Extremely organized
- Able to meet pressing deadlines
- Eager to work independently and exercise sound judgment
- Committed to applying high personal standards of integrity and character

IN RETURN:
 -A salary of $400.00 per week while you are in training for 90 days.
-Qualified individuals can earn well over $75,000 per year
-We offer a full benefit program including 401K, medical and dental.


Please apply online or  in person  at Piedmont Chrysler Jeep Dodge Ram
4015 Clemson Blvd. Anderson, SC.