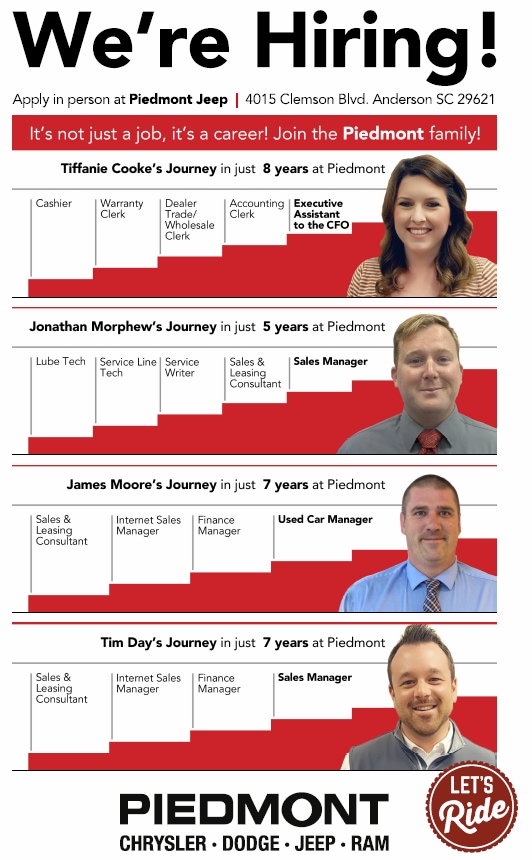 Job Openings
Automotive Technicians - Signing Bonus Available


Automotive Technicians / Lube Techs / Alignment Techs
BENEFIT PACKAGE INCLUDES:

Employer matched 401K
Full Medical Insurance
Full Dental Insurance
Paid Holidays
Paid Vacation
SIGNING BONUS AVAILABLE FOR QUALIFIED INDIVIDUALS!!!!
Do you want to work in an Air Conditioned and Heated shop?
Looking for great benefits, top pay, and a place where the average technician has been here for 10+ years? Then we have the Job for you!!
We are looking for Experienced Service Technicians to join our Piedmont Service Department - we are growing!!
Piedmont Automotive in Anderson, SC is in IMMEDIATE NEED of experienced Automotive Technicians with multiple positions open!!
Call our Service Director today if interested at: 864-245-7331 - Gary Vinson 25+ year Master Certified Technician.
RESPONSIBILITIES:
Performs work specified on the repair order with efficiency and in accordance with dealership standards
Tests components and systems using diagnostic tools and special service equipment
Diagnoses, maintains, and repairs vehicle automotive systems including engine, transmission, electrical steering, suspension, brakes, air conditioning
Communicates directly with the Service Advisor so that customers can be informed if any additional service is needed.
Provide an estimate of time needed for additional repairs
Executes repairs under warranty to manufacturer specifications
QUALIFICATIONS
High School diploma
2 years of experience is a PLUS but not required
Ability to read and comprehend written instructions and information
Knowledge in all aspects of automotive repair and maintenance
Excellent customer service skills
Ensures that customer's cars are kept clean
Maintain stall in an orderly and clean manner
Ability to identify problems quickly
Knowledge of automobiles
Math, reading, and computer skills
Ability to learn new technology, repair and service procedures and specifications
Able to operate electronic diagnostic equipment
Must have a valid driver's license and be able to pass background check/drug screen
Apply for Position
Automotive Sales Professional - $7500 Training Pay, 401k, Paid Vacation
Automotive Sales Professional 
No Prior Sales Experience Required  
$7500 Guaranteed Training Pay!!
Benefits You Receive at Piedmont Honda:
90 Day $7,500 Guaranteed Pay!!!!!
Qualified individuals earn well over $85,000 per year
Employer contributed 401K plan
Health Insurance
Dental Insurance
Additional Medical benefits
Employee Bonus Program
Paid Vacation
Are you looking for the opportunity to start a new career with more earning potential?
As with any direct sales job, you know that having access to qualified opportunities is a key to success. By joining our Internet Sales Team you will have over 500+ first party leads a month to work giving you unlimited earning potential. PLUS inbound sales phone call and floor traffic!!
The best part is that we will PAY FOR YOU TO TRAIN for the first 90 Days - Totaling $7500 in training pay.
We are looking for detail oriented individuals so 
PLEASE APPLY IN PERSON AT OUR DEALERSHIP.
Must be able to pass a criminal background check and drug screen as well as have valid driver's licenses for employment.
Please come dressed for success!
Ways to Apply:
Best Option: 

IN PERSON AT PIEDMONT! Looking for motivated individuals to fill a limited number of spots.
Contact our Sales Managers Directly: 864-224-6632
Apply Online.
Apply for Position
Full Time Detail Technician


Full Time Detail Technician
ONLY IN PERSON APPLICATIONS WILL BE ACCEPTED. PLEASE APPLY IN PERSON .
Piedmont Honda is in need of a full time Detail Technician to join our team! Work in an AIR CONDITIONED & HEATED work bay with state of the art equipment and FULL BENEFITS!
Employer contributed 401K plan
Health Insurance
Dental Insurance
Additional Medical Benefits
Employee Bonus Program
Paid Vacation
Must have a valid driver's license and pass criminal background check and drug screen.
Hours are Monday - Saturday.
ONLY IN PERSON APPLICATIONS WILL BE ACCEPTED. PLEASE APPLY IN PERSON at Piedmont Honda located at 4011 Clemson Blvd. Anderson, SC 29621 and come dressed for a possible interview. No phone calls please.
ONLY IN PERSON APPLICATIONS WILL BE ACCEPTED
Apply for Position
Hours
Monday

08:30AM - 08:30PM

Tuesday

08:30AM - 08:30PM

Wednesday

08:30AM - 08:30PM

Thursday

08:30AM - 08:30PM

Friday

08:30AM - 08:30PM

Saturday

08:30AM - 08:30PM

Sunday

Closed